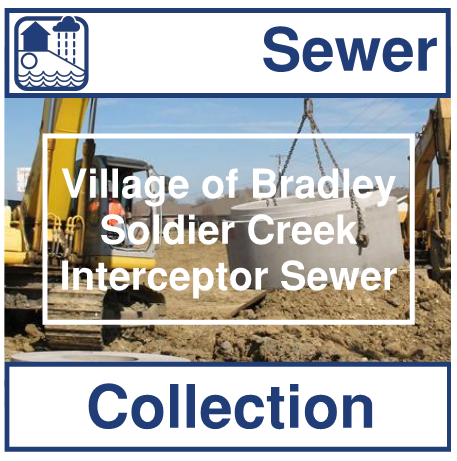 $5M SEWER INTERCEPTOR + 3 MILES OF PIPING + 1.5 MGD LIFT STATION
MASTER PLANNING + EASEMENT ACQUISITION + FINAL DESIGN + BIDDING+CONTRACT DOCUMENTS
CONSTRUCTION LAYOUT+CONTROL + CONTRACT ADMINSTRATION + WET CONDITIONS MITIGATION

The Soldier Creek Interceptor Sewer System provides sanitary sewer service for Village of Bradley customers east of I-57. The system includes over 3 miles of large diameter sewer main and force main installed at depths reaching 30 feet. The system is supported by a new 1.5 MGD lift station and improvements to an existing lift station of similar capacity.
Our work included master planning, easement acquisition, preliminary and final engineering design and construction phase services work:
mitigation of wetlands and high water table conditions,
cased township road and interstate highway crossings,
construction of large diameter sanitary sewer,
construction of force main in congested areas,
relocation of public and private utilities and road restoration,
construction and improvement of high capacity lift stations, and 
permits from ACOE, IDOT, IDNR, and IEPA. 
CIVIL ENGINEERS AND SURVEYORS WHO PROVIDE
THE ACCESS, ATTENTION AND SUPPORT YOU NEED
WE HELP YOU MOVE FORWARD, GET APPROVED  AND STAY ON PLAN