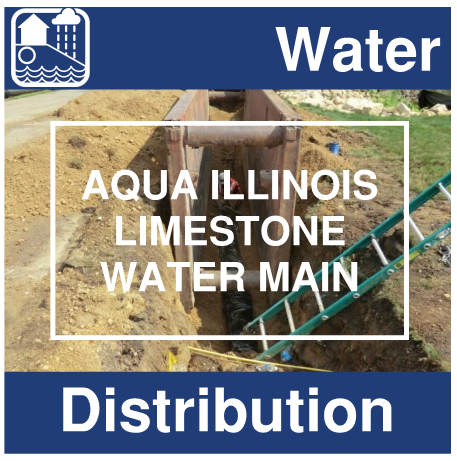 20 MILES OF NEW WATER MAIN AND CUSTOMER SERVICE CONNECTIONS
PLAN+PROJECT REVIEW + CONSTRUCITON OBSERVATION + SYSTEM MAPPING
COORDINATE HOME OWNER SERVICE CONNECTION AND WELL DISCONNECTION

Shell Oil Company constructed over 20 miles of new water main in Limestone Township in Kankakee County. The water main was then turned over to AQUA Illinois to own, operate, and maintain. The new main represented a significant increase to one of AQUA's largest distribution networks.
Our work for AQUA Illinois included plan and project review and approval, construction phase observation and mapping, and public interaction for:
the installation of over 20 miles of new watermain,
coordination with state and township road authorities,
pavement and roadside drainage restoration,
communication and planning for each home service connection,
recording as-built service locations and routing, and
disconnection for existing private wells.

CIVIL ENGINEERS AND SURVEYORS WHO PROVIDE
THE ACCESS, ATTENTION AND SUPPORT YOU NEED
WE HELP YOU MOVE FORWARD, GET APPROVED  AND STAY ON PLAN